HMC Digital Pathology: Research Services
Introduction
The Digital Pathology Lab is part of UW Medicine Hospital Pathology Laboratories and is based at Harborview Medical Center.
Research Whole Slide Scanning
Services
Brightfield whole slide scanning at 20X (0.50µm/pixel) or 40X (0.25µm/pixel) objectives of 1x3 inch glass slides
Basic training for accessing, viewing, annotating, and capturing snapshots from whole slide images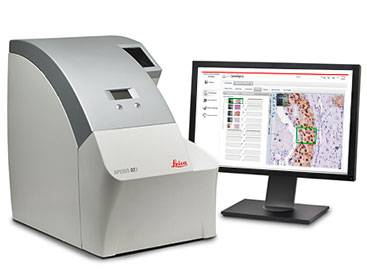 The Harborview Digital Pathology Lab, a component of the UW Medicine Anatomic Pathology Laboratories, is coordinated by Jonathan Henriksen, (jhenrik@uw.edu, 206.221.5830). The facility provides brightfield whole-slide histologic imaging suitable to prepare publication-quality figures or to quantify image features using quantitative analysis tools.
UW and Affiliated Fred Hutch Users
Slide scanning services for research purposes are provided at a per-slide rate of $5 per slide for UW and Affiliated Fred Hutch users.
External Users
Slide scanning services are provided to external users through NWBioSpecimen, the Department of Pathology's biospecimen annotation and research services core facility.
Services Detail
The Aperio ScanScope AT2 is used to prepare diagnostic quality brightfield whole slide image scans (WSI) at 20X (0.50µm/pixel) or 40X (0.25µm/pixel) magnification, performing at high continuous throughput with a 400 slide capacity. Scanned slides may be viewed at any magnification up to the scanning resolution. The 20x and 40x scanning resolutions correspond to viewing cell sizes on a microscope through 20x or 40x objectives with 10x eyepieces.
Quantitative Image Analysis Services
Once slides are scanned, the whole slide images may be analyzed using image analysis software to quantify regions of interest for area-staining or cell-staining within nuclear, membrane, and cytoplasmic regions of any chromogen. These services are offered by NWBioSpecimen, the Department of Pathology's biospecimen annotation and research services core facility. These services are billed at an hourly rate and require a signed Statement of Work. Please inquire with nwbios@uw.edu if you are interested in these services.
Rates
Digital Imaging Facility Service
Rate Internal (UW/FH)
Rate External

Slide Scanning
Whole slide images

$5/slide
Please inquire with NWBioSpecimen for latest pricing.
Billing/Fund Transfer
Internal Requestors (UW Budgets only)
The budget number you supply on the request form will be billed by way of a JV transfer process by Anatomic Pathology.
Affiliated Requestors (Fred Hutch)
You must supply an invoice address/email with each scanning request. You will receive an invoice from Anatomic Pathology with instructions on how to submit payment by check.
External Requestors
Please inquire with NWBioSpecimen for information on establishing a Goods & Services Agreement, the latest pricing, and billing process.
Requesting Slide Scanning Services
Download and complete the appropriate Slide Scan Request Form.

Slide Scan Request Form for Research

For research slides, a project name, description, PI/contact name, and budget number (or invoice information for FH users) must be included with all requests. This information will be used to organize your slides into a project folder. Please indicate if you scanning additional slides for a project which was already created.

Submit the slides along with the request form.

Please contact Jonathan Henriksen at jhenrik@uw.edu for the best method of delivering the slides to the scanning location at Harborview. This page will be updated in the near future with more specific instructions for submitting slides for scanning from H arborview and UW Medical Center - Montlake's Health Sciences Building.

You will be notified via email once the slides are scanned and the slides will be returned to the appropriate destination.