Dermatopathology: Consultation Services
Interpretation of histopathology glass slides of dermatopathology specimens on routine hematoxylin and eosin stains and special stains.
Preparation of histopathology glass slides from paraffin-embedded tissue blocks, formalin-fixed and fresh tissues.
Interpretation of immunohistochemical stains, immunofluorescence specimens, and molecular biologic results in conjunction with H&E stained slides.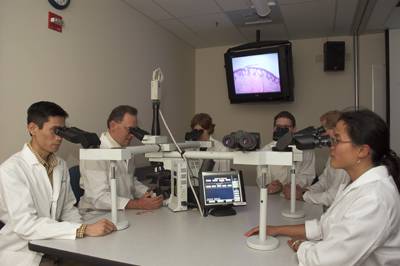 Dermatopathology Service Features
Automatic faxing of reports once they are finalized electronically.
Fast turnaround time (24–48 hours).
Individualized microscopic description (not "canned" text).
Comments regarding the margin status (in appropriate specimens).
Clinico-pathologic correlation (if clinical information provided).
Representative digital images, when indicated.
UW Medicine Dermatopathology has an outstanding staff and state of the art equipment for immunohistochemistry and molecular biologic studies for specialized diagnostic support when needed.
Service Request Form
Pathology Service Request Form