Dermatopathology Educational Programs
Dermatopathology Fellowship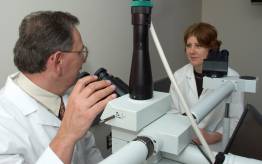 The Dermatopathology Fellowship is a one-year program, and provides theoretical and practical educational experiences in dermatopathology.
Training will also include the use of special staining techniques, electron microscopy, immunofluorescence and immunohistochemistry. There is a large diversity of in house as well as consult material.
In-house Dermatopathology Conferences
There are three Dermatopathology conferences:
Weekly didactic conferences using Power Point presentations and unknown glass slides
Weekly review of slides from previous week with the Dermatology colleagues
Clinico-pathologic conference every other week discussing interesting cases combined with patient exams
UW Medicine Dermatopathology Conference
The CME-accredited Dermatopathology conference is presented by UW Medicine Pathology and UW Medicine Dermatology as a joint effort with the Washington State Medical Association and the Washington State Society of Pathologists. The conference is for practicing surgical pathologists, dermatologists, oral pathologists, residents and trainees, and other interested physicians who would like to expand their knowledge in dermatopathology. Past Conference keynote speakers include, David Weedon, M.D., Bernard Ackerman, M.D., and Phillip McKee, M.D.
The Dermatopathology Conference is designed to be unique by:
The selected scope of discussed entities
The invitation of a featured speaker of an international structure,
The format of live interactive slide discussion.
The conference program also features a web-based Self-Assessment Test followed by a one-day live interactive discussion of the cases with the faculty members presenting the material.