Residency Program: Program Description
Overview | Typical Program | Conferences | Electives
Academic Careers | Teaching Opportunities | Evaluations | Resident Representation
Overview
The goal of the University of Washington Anatomic & Clinical Pathology Residency Program is to prepare physicians for the practice of pathology in any setting -- academic medical center, community hospital, or biotechnology laboratory. We believe this goal is best achieved in an academic environment that offers breadth and depth in all aspects of pathology. In addition to basic training in pathology, we offer a wealth of subspecialty and research training opportunities in many areas of Laboratory Medicine and Pathology. The careers chosen by graduates of our program reflect the diverse training paths available to our residents. Typically, half of our graduates continue in academic medicine while the other half seeks employment in a community setting. We offer four tracks of residency training: Anatomic and Clinical Pathology (AP/CP), Anatomic Pathology (AP only), Clinical Pathology (CP only), and Anatomic and Neurological Pathology (AP/NP).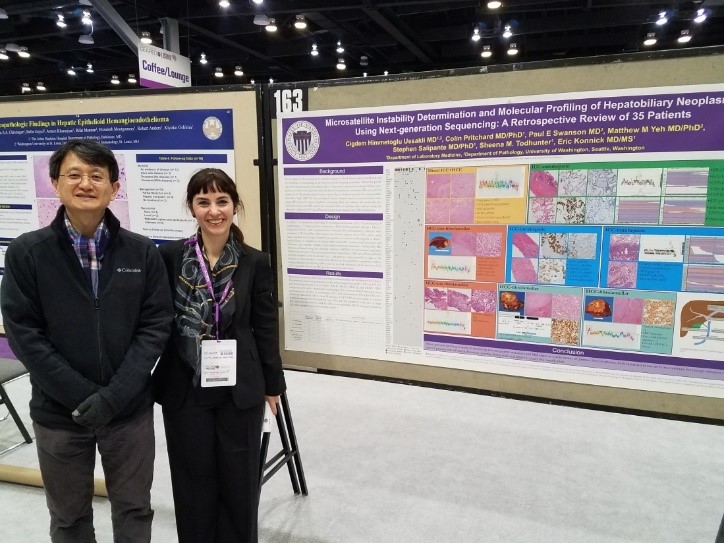 Our AP/CP program requires two years of structured study each in anatomic pathology and clinical pathology, which will meet Board certification requirements. The training in Anatomic Pathology provides broad and comprehensive exposure to the areas of autopsy, surgical pathology (general, breast, gynecologic, gastrointestinal, hepatic, renal and pediatric), cytology, dermatopathology and neuropathology. The first year in clinical pathology covers all of the major areas of Laboratory Medicine including chemistry, microbiology and virology, molecular genetics, immunology, hematology, coagulation, and transfusion medicine. In the second year residents serve as acting director of one or two lab sections for a total of six months and choose elective studies in either anatomic or clinical pathology for six months. Both programs encourage residents to take part in ongoing teaching and research activities.
AP-only and CP-only tracks consist of two years of core training in the track of interest. The third year is designed for more advanced study or research in a subspecialty area. The AP/NP track consists of two years of anatomic pathology study followed by two years of neuropathology subspecialty training, one year of which is a year of basic research in neuropathology.
Our residency and fellowship programs are all accredited. The Clinical Chemistry fellowship is accredited by the Committee on Accreditation in Clinical Chemistry; the Microbiology fellowship is accredited by the American Board of Medical Microbiology; all other fellowships are accredited by the Accreditation Council for Graduate Medical Education (ACGME). We offer the following clinical fellowship training programs:
Blood Banking/Transfusion Medicine
Bone and Soft Tissue Pathology
Breast and Gynecologic Pathology*
Cardiovascular & Pulmonary Pathology
Clinical Chemistry
Clinical Microbiology
Cytopathology*
Dermatopathology*
Forensic Pathology*
Gastrointestinal and Liver Pathology*
Genitourinary Pathology*
Hematology/Hematopathology*
Molecular Genetic Pathology*
Neuropathology*
Pediatric Pathology*
Renal Pathology*
Surgical Pathology
*ACGME-accredited fellowship training for these subspecialty areas.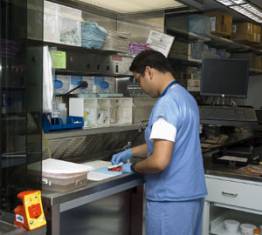 Our rotation sites include University of Washington Medical Center (UWMC), Harborview Medical Center (HMC), Seattle Children's Hospital (SCH), VA Puget Sound Health Care System (VA), Seattle Cancer Care Alliance (SCCA), the King County Medical Examiner's Office, and Bloodworks Northwest (BWNW), which provide a well-rounded and varied experience in anatomic and clinical pathology. Swedish Hospital (CellNetix Pathology) provides an additional training site for individuals interested in a rotation in community anatomic pathology practice.
Residents pursuing careers in academic medicine may combine residency training with post-doctoral research. The Pathology Residency Program provides residents with diverse opportunities for an academic medical career. These activities are supported by a clinical research fellowship offered by the Department of Laboratory Medicine & Pathology, and a number of training grants.
Our program has detailed objectives of our program goals for each area of training. These objectives outline the areas of knowledge a resident must master to become a competent pathologist.
Typical Program
Anatomic Pathology
Dr. Kelly Smith directs the anatomic pathology training and overall pathology residency training program. Dr. Mark Kilgore is the Associate Program Director for Anatomic Pathology in conjunction with Dr. Kelly Smith.
First Year AP Training. During the initial year, residents train in autopsy pathology, surgical pathology, and cytology. Surgical pathology training covers all systems in rotations structured along subspecialties, with staffing by attending pathologists with subspecialty expertise pertaining to the tissue site. Assigned cases in rotation, residents primarily analyze the anatomical disease process and its correlation with clinical findings. Residents spend 6 months at UWMC, 4 months at VA Puget Sound Health Care System, and 2 months at Harborview Medical Center.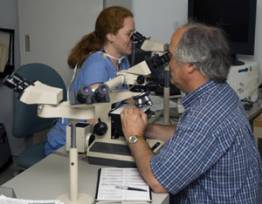 Residents are encouraged to enhance the autopsy experience by attending forensic pathology conferences at the King County Medical Examiner's Office, under the supervision of Dr. Richard Harruff, Chief Medical Examiner, when residents are rotating at Harborview Medical Center.
Second Year AP Training. Our program is designed to provide increased responsibility for independent sign out of surgical specimens during the second year of anatomic pathology training. The three-month surgical rotation at UWMC provides comprehensive training and experience in in the management and diagnosis of common and rare diseases and complex specimens, and in subspecialty areas, including soft tissue, pulmonary and gynecological pathologies. There are two months of concentration on breast, GI tract, liver and renal pathologies. There is a designated one-month rotation in dermatopathology. Residents study pediatric anatomic pathology at Seattle Children's Hospital and Regional Medical Center for two months. And a two-month rotation at HMC provides in depth experience in genitourinary pathology, cytopathology,and neuropathology. During the second year, residents gain increasing proficiency in Autopsy Pathology as back-up to the rotating first year resident over 2 months of rotation, during which they also spend 1 month on the renal pathology service, 2 weeks in Cytogenetics, and 2 weeks elective. Second year training occurs at UWMC (8 months), CHRMC (2 months) and HMC (2 months).
In addition, residents receive case-based training in the specialized testing methods of immunocytochemistry, ultrastructure, and flow cytometry.
Clinical Pathology
Dr. Emily Glynn ;and Dr. Monica Pagano are the Associate Program Directors for Clinical Pathology and are responsible for training in Clinical Pathology.
First Year CP Training. The first year of Clinical Pathology takes place at the University of Washington Medical Center, Harborview Medical Center, Bloodworks Northwest (BWNW), Seattle Cancer Care Alliance and the VA Puget Sound Health Care System. The year comprises a tightly organized full-year of study, beginning with a month-long core course (lectures, discussions and laboratory exercises) designed to introduce the breadth of the field of clinical pathology. The introductory course covers basic material in blood banking, coagulation, immunology, urinalysis, clinical chemistry, microbiology, hematology, parasitology, mycology, virology, molecular pathology, biostatistics and laboratory computer applications. This is followed by a series of rotations in the following areas: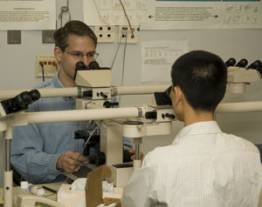 Chemistry (8-9 weeks)
Microbiology (5-6 weeks)
Immunology (3 weeks)
Transfusion Medicine (8 weeks)
Virology (2 weeks)
Hematopathology (9-10 weeks)
Coagulation (4 weeks)
Molecular Genetics (4-5 weeks)
Second Year CP Training. The second year can be tailored to meet specific career goals. During the first six months, second-year residents receive an in-depth exposure to one or two chosen areas of laboratory medicine and exercise graduated responsibility by acting as directors of subspecialty lab sections. Additionally, three weeks of the second year are spent in an apheresis rotation at BWNW. The remainder of this year is spent in either AP or CP electives. Residents may spend this time developing skills in one or more areas of the clinical laboratory or receive a more generalized experience at one of the community hospitals associated with the program. Second-year Clinical Pathology residents train at UWMC, Harborview, VA, SCCA and BWNW.
Conferences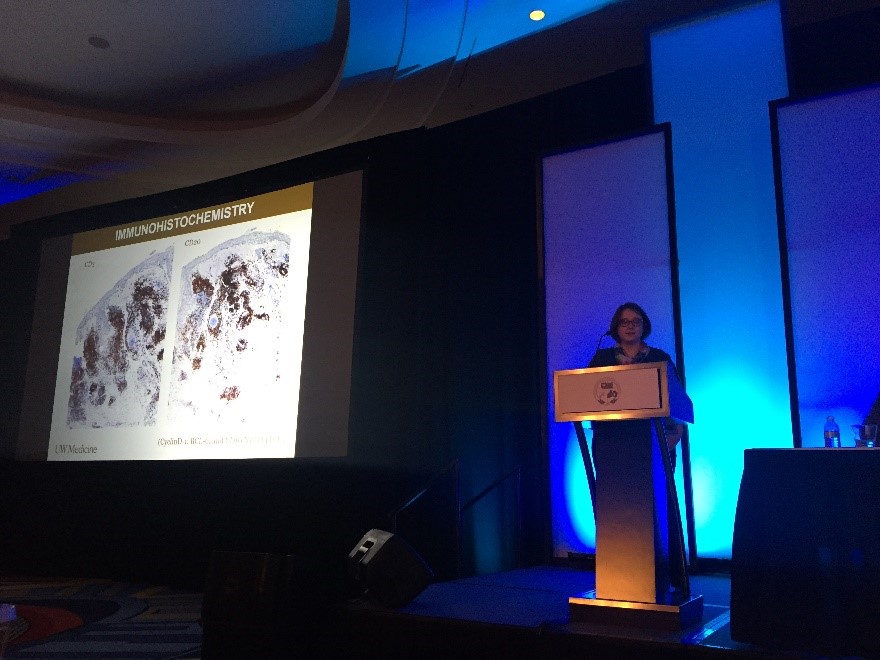 In addition to extensive one-on-one, over-the-microscope training with our faculty, residents learn by attending and presenting at didactic teaching sessions, sign-outs and clinical conferences. Pathology specific conferences are supplemented with a wide variety of multi-disciplinary teaching conferences in subspecialty areas. In addition, numerous seminars provide opportunities for residents to learn about the research activities being conducted by UW faculty and visiting scientists.
Pathology Conferences - Master List
Electives
During the 4th year of training, residents may pursue subspecialty interests with elective studies. With 150 faculty members affiliated with our program over all of the training sites, residents can design electives that meet their professional interests. In addition, electives may also be designed at off-site locations within the guidelines from the School of Medicine Graduate Medical Education Office. We encourage residents to discuss these options early in the training program. The following are brief descriptions of electives that residents have taken in the past.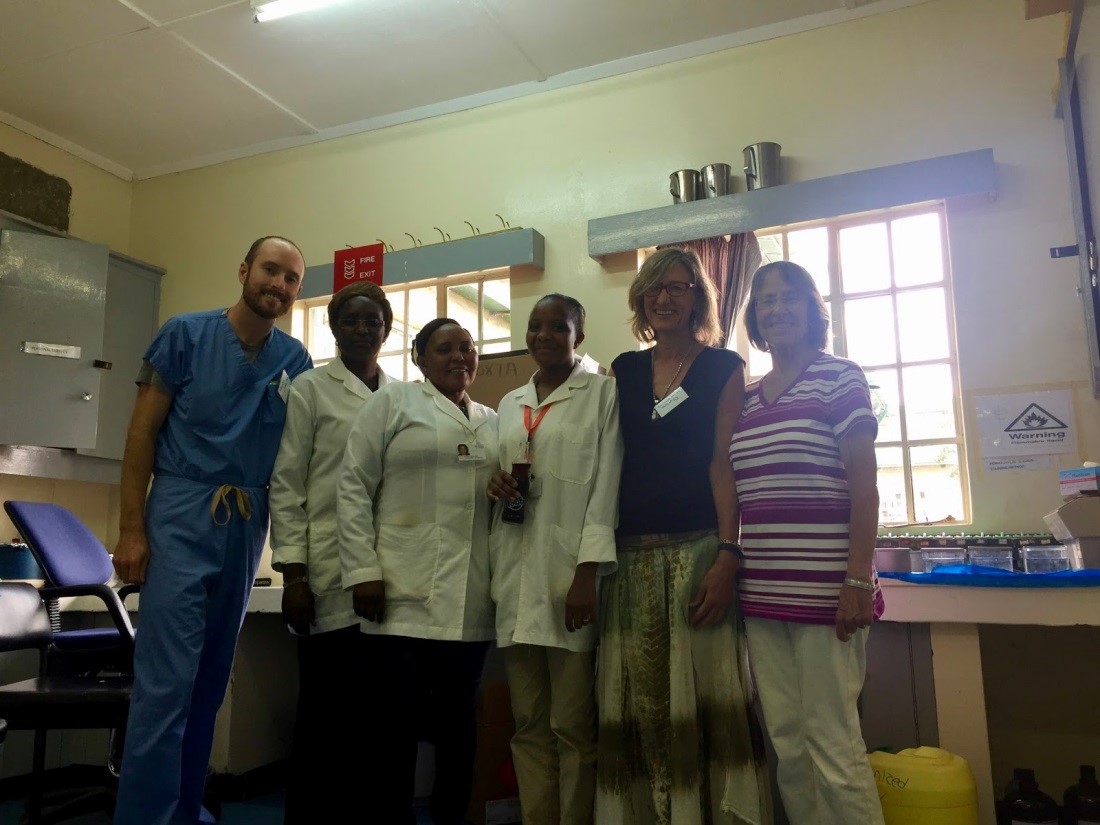 Anatomic Pathology: In-depth elective training is available in the pathology subspecialty areas of dermatopathology breast, gastrointestinal and liver pathology, gynecological, pulmonary, renal, immunohistochemistry, genitourinary/prostate, bone and soft tissue, liver, cytology, and informatics.
Laboratory Medicine: Electives and acting directorships are available in all areas - molecular genetics (including next-generation sequencing), clinical chemistry, microbiology, hematology/hematopathology, immunology, informatics, virology, transfusion medicine and others.
Blood Center/Transfusion Medicine: An elective of 3 months is available at the Bloodworks Northwest, which is the central laboratory for blood banking for Seattle.
Cytogenetics: Training provides experience in diagnostic cytogenetics with emphasis on prenatal diagnosis employing amniotic fluid cells and postnatal diagnosis employing white blood cells, bone marrow cells, neoplastic cells, and skin fibroblasts.
Electron Microscopy: Training in the use and interpretation of diagnostic electron microscopy is available in rotations of one to two months at either the VA Puget Sound Health Care or at UWMC.
DNA Flow Cytometry: The DNA flow lab routinely analyzes DNA ploidy patterns of tumors from most organs using multi-parameter flow cytometry.
Forensic Pathology: The King County Medical Examiner's Office, located in HMC, performs 1,000 autopsies per year under the direction of Dr. Richard Harruff. Training and experience in forensic pathology include scene investigation and court testimony.
Community Practice: A hands-on opportunity to work with pathologists at Swedish Medical Center/CellNetix Pathology.
Research: Elective time is available at virtually any research lab at UWMC, HMC, CHRMC, Fred Hutchinson Cancer Research Center, or Seattle Cancer Care Alliance. This is a valuable opportunity for residents interested in a multi-year research fellowship to familiarize themselves with the lab, its director and personnel, and its projects.
Academic Careers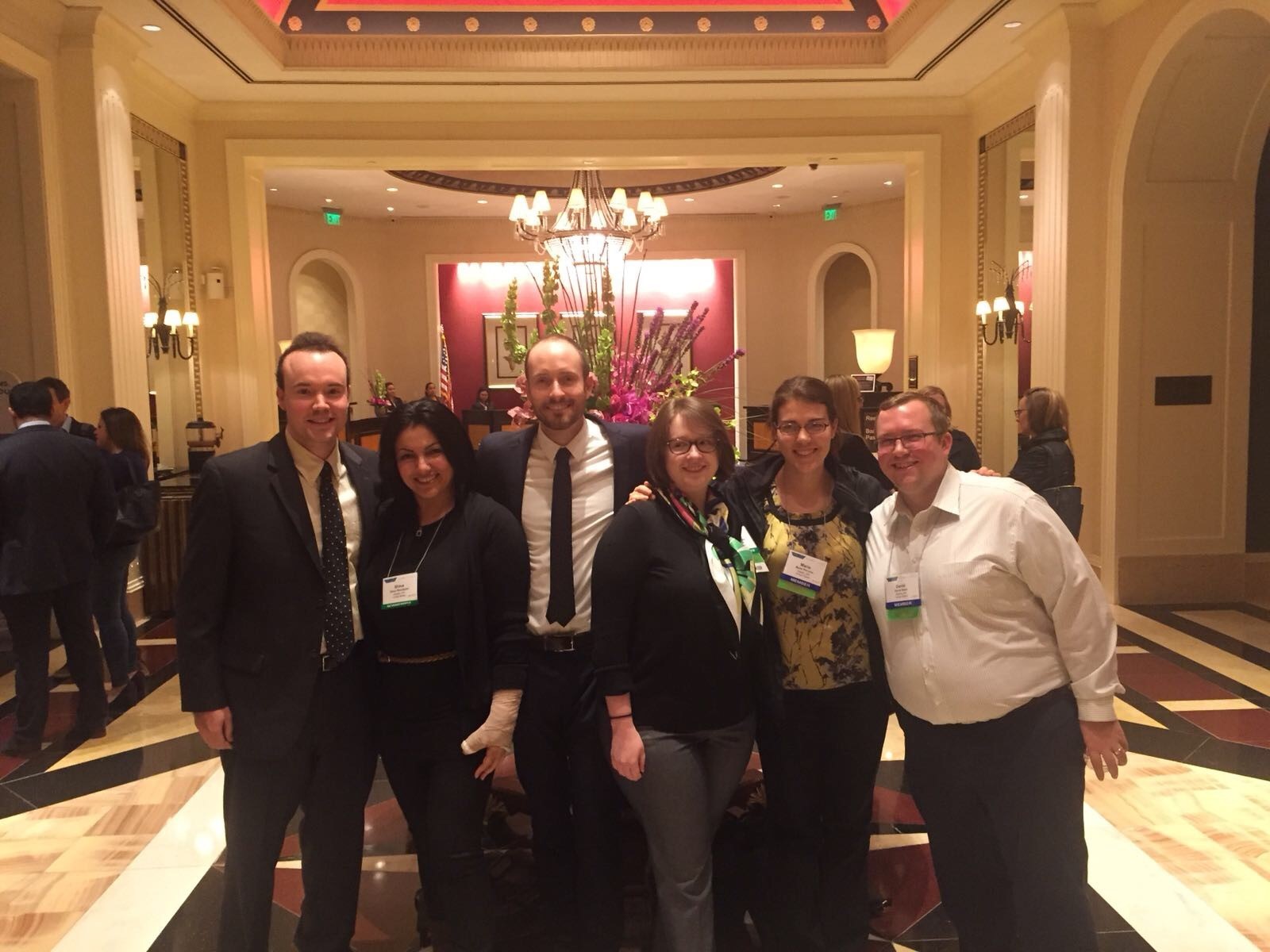 Our goal is to train residents to become well-rounded academic and clinical pathologists who will practice and develop pathology into the future. To achieve this goal, we believe research training is important for all residents, whether they seek a career in academic or community pathology. We encourage residents to work with faculty members by investigating a biomedical area of interest. We support residents' academic endeavors by providing travel funds for presentations at national meetings.
The Departments of Laboratory Medicine & Pathology is consistently in the top three NIH recipients for pathology programs in the United States. For 2019, the department received $29,153,398 in overall research funding. AP/CP residents can apply for a fifth year of clinical research which can be funded by the departments through a combination of departmental funds and training grants. This can also be an option for the third year of training for AP-only or CP-only residents. If you are interested in continuing or pursuing an academic career, you should discuss your future plans as soon as possible with your faculty advisor who will be very helpful in mentoring your aspirations.
Teaching Opportunities
Residents teach medical students taking electives in Anatomic and Clinical Pathology. For the first and second year students, residents work with faculty teaching pathology laboratory sessions. For medical students on elective rotation in Anatomic Pathology, residents work directly with students on both autopsy and surgical pathology cases. Residents also work with trainees from other programs including radiology and dermatology residents. In addition, residents give lectures and assist faculty in small group teaching of allied health personnel (medical technology students, cytotechnology students, physician assistants, etc.). The opportunity to teach students in the Health Sciences Center of the University of Washington and residents from other programs is an important component of our training program.
Evaluations
Although we are considered to be a large training program, residents are strongly encouraged to discuss directly suggestions or problems with any faculty member or the program directors. We meet the ACGME requirements for evaluation with several online, written evaluation forms for both the residents and faculty members.
Evaluation of Residents:
Resident Evaluation: completed by faculty members at the end of each rotation
Mid-Year Evaluation: a face-to-face meeting between the resident and faculty advisor
Year-End Evaluation: a face-to-face meeting between the resident and program director
Clinical Competency Committee Pathology Milestones Evaluations twice a year.
We use the MedHub residency management system and residents receive evaluations directly to their electronic portfolios.
Evaluation by Residents:
Rotation Evaluation: completed by residents at the end of each rotation
Individual Faculty Evaluation: completed by residents once a year on each faculty member with whom they have trained
Annual Evaluation: a compiled review of the AP and CP programs led by the chief residents and presented to the Residency Management Committee
Residents complete these evaluations anonymously. Rotation service chiefs or faculty members receive the evaluations in a batch every six months. Each year the Program Evaluation Committee reviews all of the program evaluations, meeting minutes, site visit and internal review reports and ACGME resident surveys to prepare an annual report and program improvement action plan. Resident feedback is a cornerstone of this quality improvement process for our program.
Residents also participate annually in the Residency In-Service Exam, a national skills assessment provided by the American Society of Clinical Pathologists. The results are reviewed by the program director but are not the sole means of determining progress in the program.
Resident Representation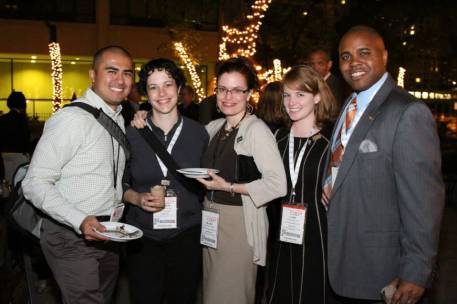 Being an effective pathologist also means understanding the business of medicine or systems-based practice. We encourage residents to participate in many program management opportunities to learn by doing. Residents are represented on the Residency Management Committee by the Chief Residents from both Anatomic Pathology and Laboratory Medicine. Many of our residents participate in CAP laboratory inspections in-house and at sites across the country. For more global issues affecting residents and their training, peer-elected representatives to the CAP and ASCP Resident Councils are selected every two years.