Residency Program: Program Description
Overview
The goal of the University of Washington Anatomic & Clinical Pathology Residency Program is to prepare physicians for the practice of pathology in any setting -- academic medical center, community hospital, or biotechnology laboratory. We believe this goal is best achieved in an academic environment that offers breadth and depth in all aspects of pathology. In addition to basic training in pathology, we offer a wealth of subspecialty and research training opportunities in many areas of Laboratory Medicine and Pathology. The careers chosen by graduates of our program reflect the diverse training paths available to our residents. Typically, half of our graduates continue in academic medicine while the other half seeks employment in a community setting. We offer four tracks of residency training: Anatomic and Clinical Pathology (AP/CP), Anatomic Pathology (AP only), Clinical Pathology (CP only), and Anatomic and Neurological Pathology (AP/NP).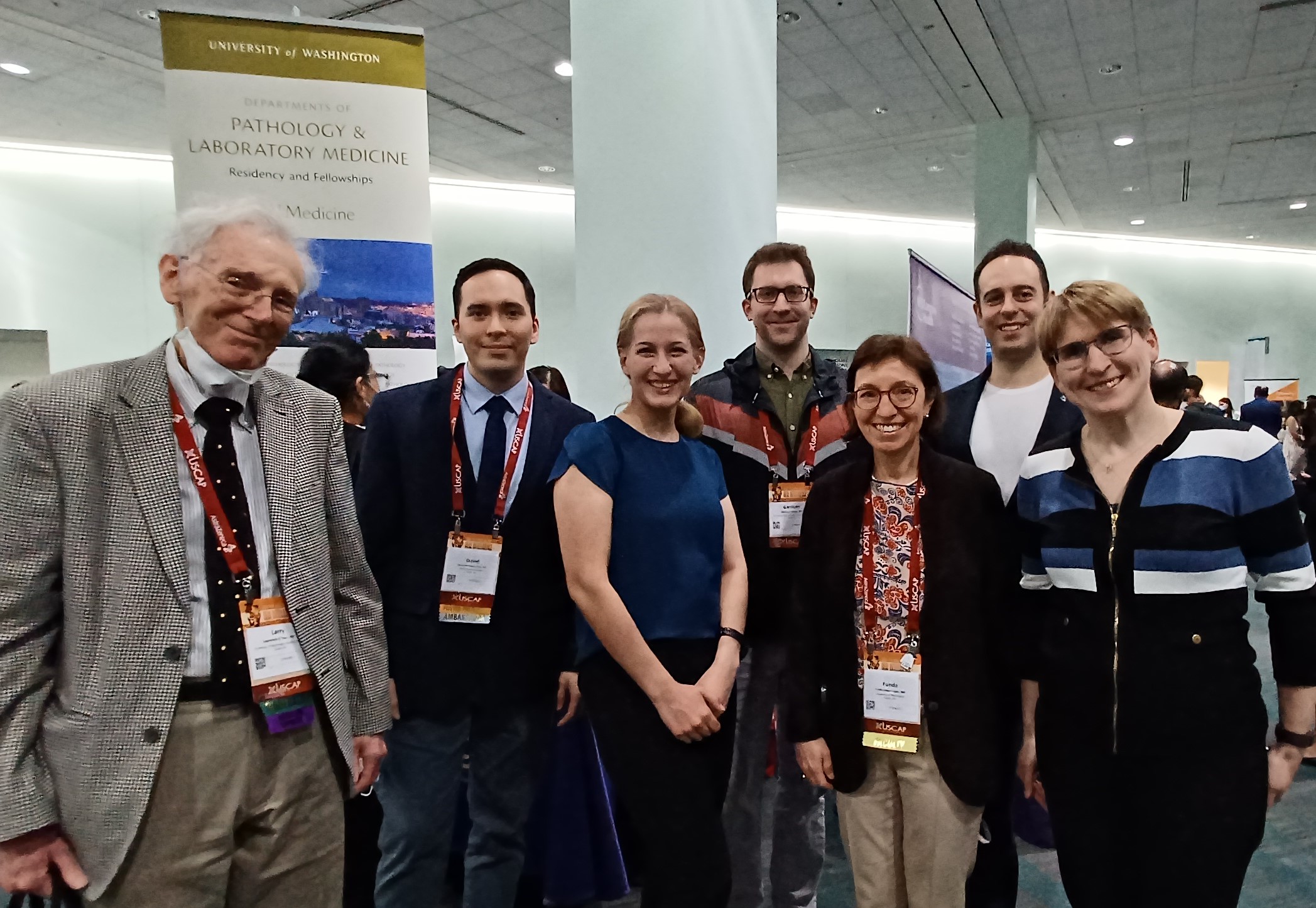 Our AP/CP program requires two years of structured study each in anatomic pathology and clinical pathology, which will meet Board certification requirements. The training in Anatomic Pathology provides broad and comprehensive exposure to the areas of autopsy, surgical pathology, breast, gynecologic, gastrointestinal, hepatic, renal, pediatric, cytology, dermatopathology and neuropathology. The first year in clinical pathology covers all of the major areas of Laboratory Medicine including chemistry, microbiology and virology, molecular genetics, immunology, hematology, coagulation, and transfusion medicine. In the second year residents serve as acting director of one or two lab sections for a total of six months and choose elective studies in either anatomic or clinical pathology for six months. Both programs encourage residents to take part in ongoing teaching and research activities.
AP-only and CP-only tracks consist of two years of core training in the track of interest. The third year is designed for more advanced study or research in a subspecialty area. The AP/NP track consists of two years of anatomic pathology study followed by two years of neuropathology subspecialty training, one year of which is a year of basic research in neuropathology.
Our residency and fellowship programs are all accredited. The Clinical Chemistry fellowship is accredited by the Committee on Accreditation in Clinical Chemistry; the Microbiology fellowship is accredited by the American Board of Medical Microbiology; all other fellowships are accredited by the Accreditation Council for Graduate Medical Education (ACGME). We encourage you to explore our various Clinical Fellowship Opportunties.

Residents pursuing careers in academic medicine may combine residency training with post-doctoral research. The Pathology Residency Program provides residents with diverse opportunities for an academic medical career.
These activities are supported by a clinical research fellowship offered by the Department of Laboratory Medicine & Pathology, and a number of training grants. Our rotation sites include University of Washington Medical Center (UWMC), Harborview Medical Center (HMC), Seattle Children's Hospital (SCH), Veterans Affairs Puget Sound Health Services (VA), Fred Hutchinson Cancer Center (FHCC), the King County Medical Examiner's Office, and Bloodworks Northwest (BWNW), which provide a well-rounded and varied experience in anatomic and clinical pathology.
Our program has detailed objectives of our program goals for each area of training. These objectives outline the areas of knowledge a resident must master to become a competent pathologist.
Residency Tracks
Combined Anatomic & Clinical Pathology (AP/CP)
Length: 4 years (48 months)
Overview: the AP/CP track prepares graduates for a broad range of career paths from a large academic medical center to private practice. This is the most common training track for pathology residents.
Curriculum: 24 months of structured Anatomic Pathology rotations, followed by 13 months of structured Clinical Pathology rotations, with the remaining a 11 months split between electives, research, and advanced rotations called "Acting Directorships" where the resident often takes on a more advanced leadership role, such as running a lab under faculty supervision.
Electives:
Established Anatomic & Clinical Pathology Rotations (ex. rotating for additional weeks on the cytopathology service to gain more exposure)
Off Site Electives: Residents may choose an off-site elective if it provides a unique educational experience not provided by the program.
Acting Directorships:
Laboratory Management at Seattle Children's Hospital
Informatics
Next Generation Sequencing / Genetics
Coagulation
Virology
Immunology
Microbiology
Anatomic & Neuropathology (AP/NP)
Length: 4 years (48 months)
Overview: The AP/NP track is designed for individuals who have decided to focus their career in neuropathology, both research and clinical practice.
Curriculum: 24 months of structured Anatomic Pathology rotations, followed by 12 months of clinical neuropathology and 12 months of research. Anatomic pathology years follow the same curriculum outlined in the AP/CP track.
Anatomic Pathology (AP-Only)
Length: 3 years (36 months)
Overview: AP-only residents are trainees who intend to pursue a career in academic medicine. They often have clear career goals in mind at the start of their residency.
Curriculum: AP-Only residents complete 24 months of anatomic pathology rotations, followed by 12 months of custom rotations geared towards their career interest, often in the form of a sub-specialty fellowship. The initial 24 months of anatomic pathology rotations follow the same curriculum outlined in the AP/CP curriculum.
Clinical Pathology (CP-Only)
Length: 3 years (36 months)
Overview: CP-Only residents are research-oriented trainees who intend to pursue a career in academic medicine and/or to run a lab. They often have clear career goals in mind at the start of their residency.
Curriculum: CP-Only residents complete 13 months of structured clinical pathology rotations, with the remaining 23 months divided up amongst electives, research and acting directorships desired to support their career goals.
Physician-Scientist Research Program (PSTP)
Overview: The goal of the Physician-Scientist Research Program (PSTP) in the Department of Laboratory Medicine & Pathology is to train future clinician-scientist leaders in the department and position them for early success. The program supplements ACGME-accredited training in anatomic pathology (AP-only), combined anatomic pathology/neuropathology (AP/NP), combined anatomic pathology/clinical pathology (AP/CP), or clinical pathology (CP-only) with additional, protected time for research, as well as additional mentorship and financial support.
Program Elements:
Protected time for research: Trainees in the PSTP are provided up to an additional two years of full-time, departmentally-funded postdoctoral research training (salary by PGY-level) to be performed before or after clinical fellowship(s), if applicable. Research engaged in the PSTP may be performed in any laboratory, preferably within the department, but also within UW Medicine or affiliated institutions with departmental approval. A research year may be initiated in between or following clinical training years, with approval from the residency program director.
Mentorship: Mentorship is provided via the trainee-selected research advisor as well as an advisory committee of DLMP members assembled in the first year by the trainee. The goal of the committee is help facilitate the trainee's transition directly to an investigator-track faculty position and obtain early stage investigator, R01 or equivalent funding. Trainees will have meetings twice a year with the mentorship committee to discuss progress and plans for the coming year.
Pathway towards faculty appointment: During the PSTP period, trainees may be considered for appointment to Acting Instructor or Acting Assistant Professor if both of the following are attained: (1) board eligibility in AP or CP, and (2) ability, as judged by clinical service leadership, to carry out faculty-level clinical responsibilities and/or acquisition of external, independent funding.
Financial support: In addition to salary support, PSTP participants receive stipends for software and conference travel. A number of intradepartmental grants are available for pilot projects leading to additional, external funding.
Eligibility: The program is open to a limited number of individuals matching into the department's Anatomic Pathology (AP-only), Anatomic and Neurological Pathology (AP/NP), Anatomic and Clinical Pathology (AP/CP) or Clinical Pathology (CP-only) residency program tracks. Candidates must submit a residency program application through the Electronic Residency Application System (ERAS) and be registered in the National Residency Matching Program (NRMP).
Holding a PhD degree (in addition to MD or DO) is not required for consideration, but because these openings are limited, successful candidates will have demonstrated prior engagement in laboratory-based or computational research (e.g., via primary authorship of publications) and will have references able to speak to this commitment.
Once accepted to the program, individuals must remain on track to complete clinical training and remain in good standing as required by the American Board of Pathology for board eligibility in anatomic or clinical pathology, during the first three to four years of training, and they must meet with advisory committee at specified intervals. Trainees must meet ACGME milestones at appropriate levels.
Contact Information: Associate Program Director (Clinical Pathology): William Phipps, MD (wphipps5@uw.edu)
Conferences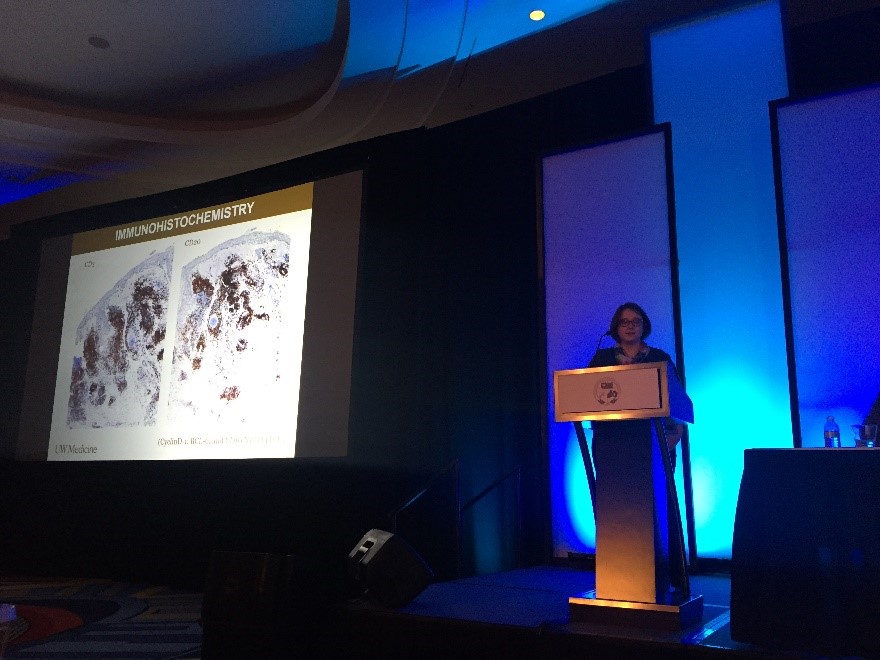 In addition to extensive one-on-one, over-the-microscope training with our faculty, residents learn by attending and presenting at didactic teaching sessions, sign-outs and clinical conferences. Pathology specific conferences are supplemented with a wide variety of multi-disciplinary teaching conferences in subspecialty areas. In addition, numerous seminars provide opportunities for residents to learn about the research activities being conducted by UW faculty and visiting scientists. Residents are allotted 10 "Professional Development" days per academic year to allow them to attend conferences. Additionally, residents have a $1,600 travel fund to use to help cover the cost of travel, lodging and food when traveling to a conference to present a poster or abstract, give a talk or participate in policy discussions.
Academic Careers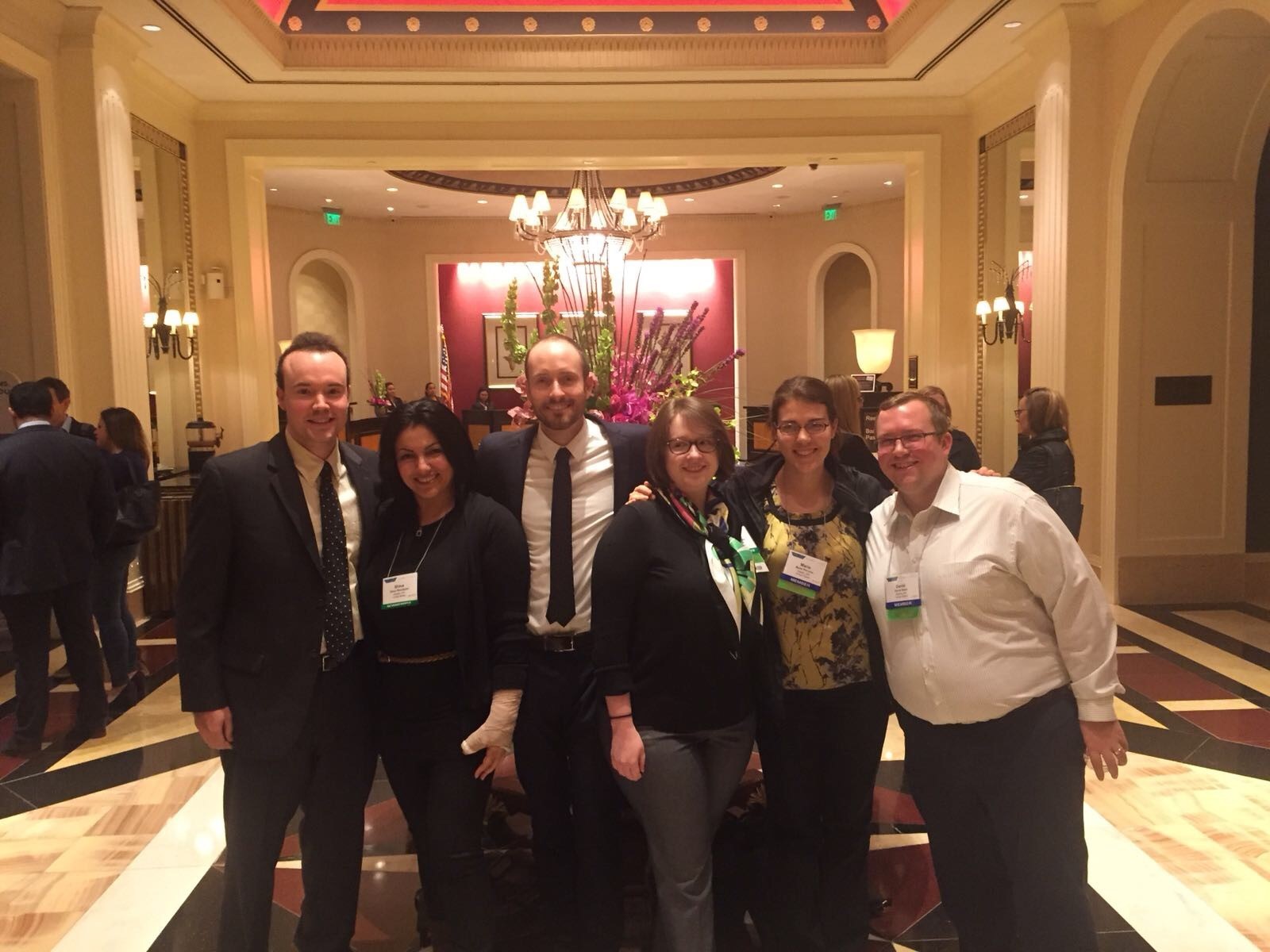 Our goal is to train residents to become well-rounded academic and clinical pathologists who will practice and develop pathology into the future. To achieve this goal, we believe research training is important for all residents, whether they seek a career in academic or community pathology. We encourage residents to work with faculty members by investigating a biomedical area of interest. We support residents' academic endeavors by providing travel funds for presentations at national meetings.
The Departments of Laboratory Medicine & Pathology is consistently in the top three NIH recipients for pathology programs in the United States. For 2019, the department received $29,153,398 in overall research funding. AP/CP residents can apply for a fifth year of clinical research which can be funded by the departments through a combination of departmental funds and training grants. This can also be an option for the third year of training for AP-only or CP-only residents. If you are interested in continuing or pursuing an academic career, you should discuss your future plans as soon as possible with your faculty advisor who will be very helpful in mentoring your aspirations.
Teaching Opportunities
There are numerous opportunities for our residents to teach their peers and others within our institution, including, but not limited to:
Medical Clerkships for 3rd and 4th year medical students
Gross Organ Labs for 1st and 2nd year medical students
Peer Teaching opportunities

Presenting at our unknown slide session "Blue Box"
Basic Histology & Normal Pathology sessions during orientation
Weekly call rounds
Monthly QA conference
Resident Representation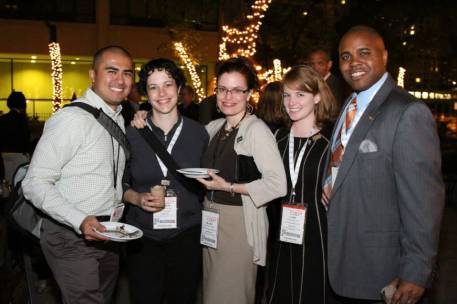 Being an effective pathologist also means understanding the business of medicine or systems-based practice. We encourage residents to participate in many program management opportunities to learn by doing. Residents are represented on the Residency Management Committee by the Chief Residents from both Anatomic Pathology and Laboratory Medicine. Many of our residents participate in CAP laboratory inspections in-house and at sites across the country.
Our residents are well represented in organized medicine, with 3 resident delegates in the College of American Pathologists (CAP) Residents Forum, and 2 American Society of Clinical Pathology (ASCP) resident representatives. Terms last for 2 years and are resident elected. CAP and ASCP representatives receive financial support in addition to their travel fund to allow them to attend their respective resident council meetings.
Additionally, all residents are automatically provided with free CAP junior memberships, and can join the Washington State Society of American Pathologists (WSSP) for free!