MLS Undergraduate Program: FAQS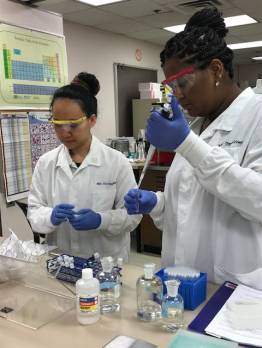 Q: Is this an undergraduate major?
A: Yes. The MLS program is an undergraduate major in the School of Medicine at the University of Washington, Seattle. Graduates of the program earn a Bachelor of Science degree in Medical Laboratory Science.
Q: What are the prerequisites for the MLS program?
A: For a list of required prerequisites, see the Program Requirements page. Yes, all of the prerequisites are required for admittance and must be completed prior to admittance into the program. We do not typically accept prerequisites greater than seven years old. For personal transcript review, contact our program advisor.
Q: Can I apply before my prerequisites are complete?
A: Yes, as long as you have a plan in place to complete all prerequisites by the first day of the autumn in which you will be admitted. If prerequisites are not completed by the first day of the autumn quarter (typically the last week in September), you will be denied program admittance. Please visit the Program Requirements page for more details.
Q: What is the average GPA of applicants admitted into the program?
A: Review of application GPAs includes the evaluation of both cumulative and science (calculation of all required prerequisite courses) GPAs for every applicant. The class average is typically 3.4-3.5 cumulative GPA and 3.2-3.3 science GPA. However, the GPA range of admitted students is 2.5-4.0 overall.
Q: What can I do to make myself a more competitive applicant?
A: The MLS application review committee thoroughly reviews every application. Strong applicants have a clear understanding of the field of Laboratory Medicine, goals to work as a MLS after graduation, and some laboratory experience either in a clinical or research lab, or as a student lab assistant.
Q: Is this program available part-time or online?
A: No. The MLS program is a full-time, in-person program taught at the University of Washington, Seattle. Courses are typically held during daytime hours, 5 days a week.
Q: Does the program accept people who already have bachelor's degrees?
A: Yes. Roughly one-third of our incoming students already have degrees. For our post-baccalaureate students, this is a two-year program, resulting in the earning of a second bachelor's degree, i.e. a Bachelor of Science in Medical Laboratory Science. As a post-baccalaureate applicant, you must apply to the UW MLS program and also apply to the UW separately. Be advised that UW is stricter in its GPA requirements for post-baccalaureate students. UW is disinclined to accept post-baccalaureate students with either a cumulative or science GPA below 3.0. The MLS program cannot accept a student that has not been accepted by the UW.
Q: If I am a post-baccalaureate student and have completed some of the required courses, can I finish the program faster than the two years?
A: Post-baccalaureate students cannot finish this program in less than two years or seven quarters. Even if you have completed some of the required courses such as Immunology, Bacteriology, Virology, Parasitology or Mycology and are possibly awarded credit for these courses, you are still required to take all of the UW MLS/LAB M courses. These courses are only offered one time per year and span seven quarters. Therefore, you may not have to take a full course load each quarter if you have completed some or all of the courses listed above, but it will still take seven quarters to complete the other course requirements.
Q: Does the MLS program accept international students?
A: Yes. Contact International Student Services for questions about visas.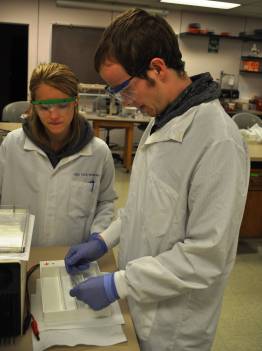 Q: Do you place students in clinical rotations who have completed their training at another school?
A: No. Our MLS program is a 2+2 program. We only place students in clinical rotations who have been accepted into our complete program due to a lack of clinical rotations spots and in accordance with our affiliate agreements. We suggest students looking for clinical rotation placement consider 3+1 or 4+1 programs. Please visit National Accrediting Agency for Clinical Laboratory Science (NAACLS) programs search for more information about other programs.
Q: How are clinical rotations assigned?
A: Clinical rotations consist of five, 5-week practical learning experiences at affiliate hospital sites across the Puget Sound region. Students' preferences are considered for placement, but placement preferences are not guaranteed. Ultimately, student placement will depend upon the availability of rotations. Clinical rotation placement is guaranteed for all UW MLS students. For more details, refer to the Program Requirements page.
Q: Are clinical rotations paid internships?
A: No. Clinical rotations are courses for which students pay tuition. The clinical rotation courses are managed by clinical coordinators and have required coursework, including exams.
Q: Can students work while they are in the program?
A: During the junior year, students who maintain employment are working part-time, flexible schedules. Hourly jobs may be available for students in the UW Medicine clinical labs as Clinical Laboratory Technicians, depending on the year. Starting the summer quarter between the junior and senior year, students are either in class or rotations 40hrs/wk until graduation. Most students find it difficult to maintain employment during this period.
Q: How much does quarterly tuition cost?
A: UW determines the tuition rates and the MLS program does not currently have lab fees. For more information, visit the Office of Planning and Budgeting.
Q: What is the employment rate for your graduates?
A: Medical Laboratory Scientists are in demand across the country. Nearly 100% of our students have jobs within six months of graduation. Most of our students have jobs waiting for them once they graduate. For details, visit our After the Program page.
Q: What is the entry-level pay like for MLS graduates?
A: Job titles in increasing order of responsibility and experience include MLS Trainee/1, MLS 2, and Lead MLS.
Q: Are program graduates eligible for the national American Society of Clinical Pathology (ASCP) Board of Certification (BOC) MLS generalist exam?
A: Yes, the UW MLS program is a NAACLS accredited program. Our graduates are eligible to take the national ASCP BOC MLS generalist exam. Earning the MLS Bachelor of Science degree and passing the BOC exam grants our graduates employment eligibility in any clinical laboratory discipline.
Q: Do you perform background checks and drug screening?
A: Yes. All students accepted into the program have required background checks. Some of our affiliate hospitals require drug screening and only students sent to those sites need to be tested.
Can't find what you're looking for? Contact our advisor.