MLS Undergraduate Program: Requirements
Pre-Professional Phase
Professional Phase
Graduation Requirements
Pre-Professional Phase
During the freshmen and sophomore years, known as the pre-professional phase, students must earn a minimum of 90 quarter credits, including both prerequisite courses for medical laboratory science and general education courses required for graduation from the University of Washington, as outlined below.
Specific Requirements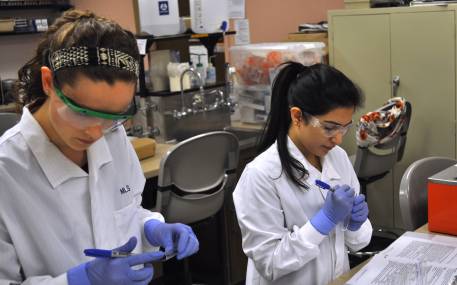 1. Prerequisite course requirements
The following courses must be completed prior to entry into the Medical Laboratory Science Program:
Biology 180, 200, 220
Biology 118 – Survey of Human Physiology, starting with the 2025 application cycle this course will no longer be required.
General Chemistry 142, 152, 162
Organic Chemistry 223 or 237: 1 quarter or 1 semester of Organic Chemistry (no lab required)
Any Basic Statistics course (we do not accept Calculus)
Applicants must also have a cumulative and science GPA of 2.0 to be considered for admission. Starting with the 2025 application cycle, a 2.5 cumulative and science GPA will be required.
2. Completion of University writing, reasoning, and general education requirements by the time you graduate
Below are the General Education Requirements for the School of Medicine, which is a graduation requirement, not an MLS program requirement. Therefore, these do not have to be complete to start the MLS program but must be complete in order to graduate. However, the MLS program curriculum is rigorous and therefore recommended that you have as many general education courses complete (if not all) prior to starting the program.
5 credits of English Composition (C), plus a minimum 7 credits of additional Writing-intensive (W) courses
5 credits of Reasoning (RSN) – the Statistics or Chemistry course that you take to meet the program prerequisite requirement will satisfy this general education requirement
10 credits of Arts and Humanities (A&H)
10 credits of Social Sciences (SSc)
3 credit Diversity Course (DIV)
Courses may be taken at the UW, or at another university, college, or community college. All prerequisite courses do not have to be complete at the time of application to the program (the application deadline is February 15 for entry in Autumn Quarter). However, the applicant must show a specific plan for completion of all prerequisite courses prior to entry in the Professional Phase of the program. If courses are not complete at the time of application, admission will be with the condition that all course work will be completed prior to Autumn Quarter.
If coursework is taken at another school, it is important to verify that courses equivalent to those offered at the UW are taken. An advisor at the school should be able to obtain and give you this information.
Professional Phase
The last two years of study constitute the professional phase. Courses in the first year of this phase are designed to provide students with the appropriate theoretical background and the basic technical skills that will enable them to function effectively in the clinical laboratory.
The following subjects are included in the professional phase of the curriculum and are taught by faculty in the Departments of Laboratory Medicine and Pathology, Immunology, and Microbiology:
Bacteriology
Biochemistry
Clinical Chemistry
Clinical Hematology
Clinical Microbiology
Clinical Microscopy (Urinalysis and other Body Fluids)
Coagulation
Immunohematology
Immunology
Molecular Diagnostics
Mycology
Parasitology
Phlebotomy (blood collection)
Virology
One major advantage of the UW Medical Laboratory Science Program is the opportunity to learn complicated and highly technical laboratory procedures in an internship setting in clinical laboratories.
The final year (three quarters) takes place in the clinical laboratories of the University of Washington Medical Center and its affiliates. This type of educational experience requires the cooperation of the clinical laboratories in the facilities listed below. The Medical Laboratory Science Program will not admit more students into the program than can be accommodated in these clinical facilities.
CHI Franciscan
EvergreenHealth
Fred Hutchinson Cancer Research Center
Harborview Medical Center (HMC)
Kaiser Permanente
LabCorp
MultiCare Tacoma General Hospital
Overlake Medical Center - Bellevue
PeaceHealth
Providence Health & Services
Seattle Cancer Care Alliance
Seattle Children's Hospital
Swedish Medical Center
Bloodworks Northwest
UW Medical Center (UWMC)- Montlake
UWMC - Northwest
Veterans Affairs Puget Sound Health Care System (VAPSHCS)
Virginia Mason Hospital and Seattle Medical Center
Students spend the majority of their scheduled time in the core clinical laboratory program in chemistry, hematology, immunohematology, and microbiology. Students currently participate in a 5-week research or enrichment rotation.
Attendance
In the clinical year, the student must be able to be present in the clinical laboratory full-time, 40 hours per week.
Applicants who require accommodation in order to meet these standards should contact the University of Washington Disability Resources for Students after they have been accepted into the program.
Graduation Requirements for Medical Laboratory Science
Graduates of the Medical Laboratory Science Program are expected to have in-depth knowledge of the relationships between laboratory data and pathologic processes, and their relevance to clinical medicine.
They will have experience in the performance of both routine and specialized testing procedures, as well as an understanding of the theoretical basis of these procedures. They will also have experience in troubleshooting and resolving typical problems in the clinical laboratory. Graduates will have experience with laboratory computers, laboratory management, developmental research techniques, instructional methodologies, quality assurance, quality control, and laboratory safety.

Ready to apply? View application instructions.