Renal Pathology
Our Renal Biopsy Service provides state of the art diagnostic work-up of your renal biopsies by five renowned leaders in renal pathology. A renal pathologist is on-call 24/7 and can be reached by dialing the UW Medical Center paging operator at 206.598.6190. We provide flexible billing, weekend and holiday services for urgent biopsies, and a collaborative approach to patient care. We offer remote consultations with image transmission, and the opportunity to discuss your cases with us and our colleagues in UW Medicine Nephrology at our weekly Zoom Kidney Biopsy Conference.

Nephrology Grand Rounds
Contact Information
Specimen Handling and Shipping
Electron Microscopy
Clinical Fellowships: Renal Pathology
Questions and requests regarding fixatives and histology related technical service requests should be directed to the Histology Lab.
Histology Lab
Renal Technician
Phone: 206.598.4028
Fax: 206.598.8049
Questions and requests regarding electron microscopy should be directed to Jennifer Swicord, the Electron Microscopy Lab Interim Supervisor.
Jennifer Swicord
Electron Microscopy Lab
Phone: 206.598.6411
Fax: 206.598.8049
Nephrology Grand Rounds – Kidney Biopsy Conference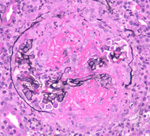 As part of Nephrology Grand Rounds, we host a monthly, one-hour renal pathology conference, in which University of Washington cases are presented and discussed by the nephrologists in attendance as well as the visiting professors. These conferences offer a unique opportunity for physicians to review the pathology of the cases, learn about the pathologic findings, and discuss interesting, and, at times, problematic issues concerning diagnosis and/or management of kidney diseases.