Renal Pathology
The Renal Biopsy Service currently consists of 4 attending pathologists, 1 renal pathology fellow, 1 renal pathology technician, and support staff in the Immunohistochemistry and Electron Microscopy Laboratories and in the administrative offices of UWMC's pathology departments.
Questions and requests regarding fixatives and histology related technical service requests should be directed to the Histology Lab.
Histology Lab
Renal Technician
Phone: 206.598.4028
Fax: 206.598.8049
Questions and requests regarding electron microscopy should be directed to Jennifer Swicord, the Electron Microscopy Lab Interim Supervisor.
Jennifer Swicord
Electron Microscopy Lab
Phone: 206.598.6411
Fax: 206.598.8049
A renal pathologist is on-call 24/7 at UWMC. We can be reached through the contact information included or by dialing the UWMC paging operator at 206.598.6190.
New Services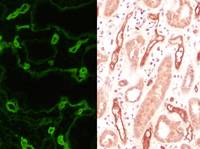 Immunohistochemical staining for presence of peritubular capillary C4d is now performed routinely on transplant renal biopsies, in view of the growing recognition of the importance of recognition of C4d deposition as a prognostic factor and as a marker of what may be "humoral" rejection. In the past, it was necessary to have frozen tissue to perform this assay using immunofluorescence techniques; we have now developed the capacity to perform immunohistochemical studies on formalin fixed, paraffin embedded transplant biopsies. We have also developed an enhanced immunohistochemical test with greater specificity for the detection of polyoma virus in renal transplant biopsies.
Over the past two years, we have introduced the insertion of key pathology illustrations (histology and electron microscopy) in to our pathology report. We hope to expand our capacity to provide this information to you. We realize that images embedded in our pathology reports will be suboptimal in those copies of the reports that are faxed to the primary referring physician. These images are of better quality in reports sent by mail (typically sent to your referring pathology laboratory).
Nephrology Days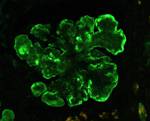 The Northwest Renal Society has three one day meetings annually, which are held in Seattle and which feature nationally known visiting professors to speak on topics of relevance to the nephrology community. Each Nephrology day begins with one-hour renal pathology conference, in which cases sent to the University of Washington by our referring physicians (you!) are presented and discussed by the nephrologists in attendance as well as the visiting professors. These conference are generally well received and offer a unique opportunity for physicians who otherwise would not have the chance to review the pathology of their cases with us at the microscope to see the pathologic findings in their cases, and discuss interesting, and, at times, problematic issues concerning diagnosis and/or management of their cases with the community as a whole. We actively solicit your cases and your participation in this conference. Please refer to the NW Renal Society website (www.nwrenalsociety.org) for coming events.