News in July 2017
July 05, 2017 in Education, Research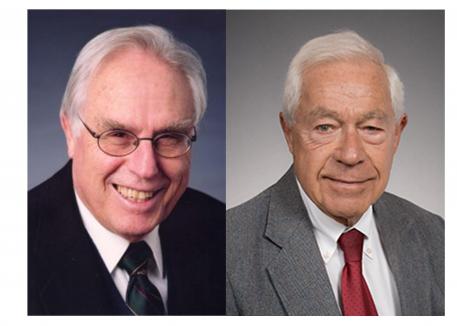 Join us in honoring George Martin and Dennis Reichenbach's deep and lasting commitment to research, education, and the development of new leaders for the discipline of pathology. No depiction of the strength of our department would be complete without noting the impact Dennis and George have had on generations of graduate students, post-doctoral students, and junior faculty. By supporting the George Martin-Dennis Reichenbach Endowment, you are not only honoring the amazing impact of two exceptional scientists, you are enabling early career pathologists to pursue their research interests that fall outside of the traditional focus areas of federal funding programs. In the spirit of the indelible impact Drs. Martin and Reichenbach continue to have on our field, this endowment's purpose is to foster innovative research and better inform our fight against disease.
July 05, 2017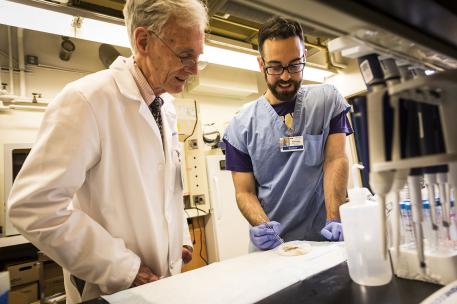 A versatile light-sheet microscope developed by a team of University of Washington mechanical engineers, including Adam Glaser and Jonathan Liu, and UW Medicine pathologists, Nicholas Reder and Larry True, can provide surgeons with real-time pathology data to guide cancer-removal surgeries and can also non-destructively examine tumor biopsies in 3D. It can rapidly and non-destructively image the margins of large fresh tissue specimens with the same level of detail as traditional pathology — in no more than 30 minutes.
Read the full story on UW Today.
July 05, 2017 in Research
On June 30, 2017, Professor Emeritus Dr. George Martin turned 90 years old. Several generations of Dr. Martin's colleagues in the UW Department of Pathology gathered to hear remarks, mingle, and celebrate Martin's work and legacy of scientific accomplishment, generosity, and collegiality.
Read the full story on the UW Memory and Brain Wellness Center website.