Over Five Million COVID-19 Tests and Counting
August 02, 2022 in COVID-19, Patient care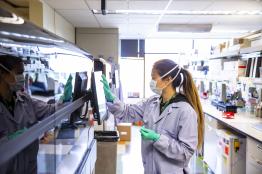 Since the pandemic began in March 2020, we've run over 5,000,000 COVID-19 tests.*
We've rounded up more resources to keep you updated on our efforts and recommendations:
- View UW Medicine's COVID-19 testing locations and vaccine information.
- View our COVID-19 dashboard
- Dr. Geoffrey Baird talks about our Virology lab move in our department newsletter.
- Dr. Pavitra Roychoudhury shares the latest on Omicron variant BA.5 with KUOW.
- Read "The BA.5 Wave Is What COVID Normal Looks Like" in The Atlantic.
- Read "Still testing positive after day 10? How to decide when to end your COVID isolation" on North County Public Radio.
Follow us on Twitter @uwlabmedpath and @UWVirology for the latest news and updates. As always, please wear a mask and keep your distance.
*Clinical samples only; does not include research samples.

Photo: Our Virology Lab processing COVID-19 tests in 2020; University of Washington.