NIH Grant for New Center at the UW School of Medicine
October 22, 2020 in Research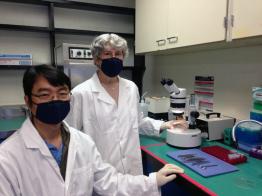 The National Institutes of Health announced a $10 million, five-year grant for a 4-Dimensional Genomic Nuclear Organization of Mammalian Embryogenesis Center at the UW School of Medicine. The center "will compile a high resolution atlas, based on its 4D nucleome analyses, of mouse embryonic development. The atlas will be made openly available to the scientific community."

Congratulations to our faculty members Christine M. Disteche and Xinxian Deng for this exciting news! Dr. Disteche will lead the team along with Drs. Jay Shendure and Bill Noble. Dr. Deng will join as a co-investigator along with Drs. Duan, Trapnell, Fowler, and Beliveau.

Read the whole announcement on UW Medicine Newsroom. The photo, from the announcement, is of Drs. Deng and Disteche at a dissecting microscope.