Virtual Open House with the UW Anatomic & Clinical Pathology Residency Program
September 17, 2020 in Education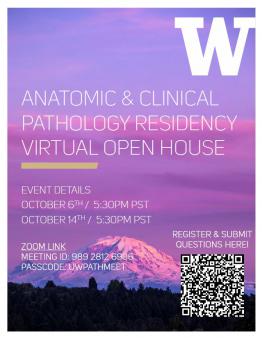 Join us for one of our virtual open houses featuring our Residency Program Leadership and residents. Hear about our specialized research opportunities, clinical and educational environments and what it's like living in Seattle.
These sessions are purely informational, and intended to give you a chance to get to know us better prior to applying for residency. We look forward to meeting you all and sharing what makes us excited about our program!
Open House Details
We'll hold three sessions with similar content for all interested applicants. No registration required!
Thursday, October 1st at 5:30pm PST
Tuesday, October 6th at 5:30pm PST
Wednesday, October 14th at 10:00am PST
Join Us
Zoom Link
Meeting ID: 989 2812 6906
Password: UWPATHMEET
Help us provide you the information you are looking for. Submit your questions for us here.