Welcome to the new Department of Pathology Website
January 31, 2016 in Education, Research, Patient care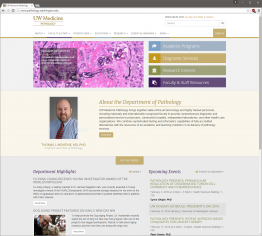 We're pleased to unveil our new website with a modern design and easier-to-find content. The new website is also mobile-friendly so you can view the site from your phone or tablet.
We hope you'll find the new website easier to navigate.
Browse the new faculty directory which allows you to filter faculty profiles by clinical subspecialties and research areas, access resources for faculty & staff and view the calendar of events which allows you to add event reminders directly to your calendar.
You may provide feedback by submitting a tech request or sending an email to webmaster@pathology.washington.edu. Please report any technical issues or broken links, and please let us know if you notice any content which needs updating.