Dog Aging Project Featured on King 5 New Day NW
August 13, 2015 in Research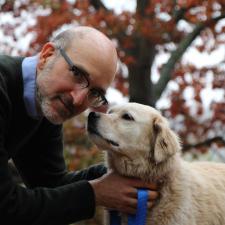 For millions of people, pets are part of the family. Unfortunately, dogs and cats age rapidly and tend to die all too soon. Imagine gaining an additional two to five years with your beloved pet while he or she is still in the prime of life. UW Medicine Pathology Professors Matt Kaeberlein and Daniel Promislow (pictured with his dog Frisbee) have initiated the Dog Aging Project to translate recent breakthroughs in the biology of aging and make this goal a reality.
To help promote the project Dr. Kaeberlein recently visited the set of King 5's New Day NW program with one of the project's four-legged participants, Rascal, to talk about aging research and the work they are doing with dogs now.
If you are interested in participating in the project or would like to learn more, please visit dogagingproject.com.