NWBioSpecimen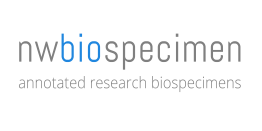 NWBioSpecimen is a collaborative effort between the University of Washington (UW), Fred Hutch (FH), and Seattle Cancer Care Alliance (SCCA) to facilitate access to well-characterized human research biospecimens.
NWBioSpecimen provides researchers with a single point of contact (nwbios@uw.edu) for:
Study feasibility assessment and study registration
Procurement and distribution of biospecimens and annotation data
Tissue microarray (TMA) construction and coring for molecular analysis
Histopathology services
Quantitative image analysis services of histologic whole slide images (digital slide scanning services are first provided by the HMC Digital Pathology Facility, which creates brightfield histologic whole slide images of glass slides compatible with sophisticated image analysis software)
Billing, accounting, and reporting services
Additional information can be found at the NWBioSpecimen website: http://depts.washington.edu/nwbios/
Requesting Archival Pathology Materials
For information on requesting laboratory services using materials from pathology archives (case slides and blocks), please see Requesting Archival Pathology Materials.
Contact Information
Price List
Please contact nwbios@uw.edu for pricing information, including budget estimates for project planning and grant submissions. If you have a UW NetID, you may view the current rates at NWBioSpecimen website.
If you are from outside UW Medicine and need to be billed by invoice, there will be an institutional overhead charge.
Please note that pricing is subject to annual review and changes, which may vary approximately between 3%-10% annually. Be sure to budget for potential future changes.
Requesting Clinical Services
In the event that a study is clinical (a study that involves the processing of fresh, human tissue obtained from within the medical center and involves results of a research study being inserted into the patient's medical record), please submit your study to the Clinical Research Budgeting and Billing support office and obtain an RRR research study account. Visit the CRBB website for more information.