Join Us for the Annual ACLPS Meeting
May 11, 2022 in Events, General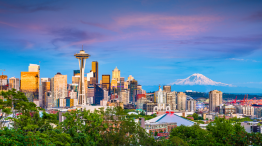 We are hosting the 57th annual Academy of Clinical Laboratory Physicians and Scientists (ACLPS) Meeting in downtown Seattle June 23-25, 2022, which will be the first in-person meeting since 2019.

The ACLPS Meeting is for academic clinical pathologists and laboratory scientists and will feature a "good mix of updates on latest information in laboratory medicine, networking with colleagues from around the country, and chance for faculty to meet up-and-coming residents and fellows through abstract presentations and get-togethers," says Dr. Wayne Chandler, clinical professor (retired) for the Department of Laboratory Medicine and Pathology (DLMP) and head of clinical pathology (retired) at Seattle Children's Hospital.

Speakers from DLMP include Drs. Alex Greninger, Stephen J. Salipante, Monica B. Pagano, Charles E. Murry, Christina M. Lockwood, and Wayne Chandler as well as Max J. Louzon. Guest speakers include Drs. Jonathan Himmelfarb (Department of Medicine, University of Washington), Daniel T. Holmes (Department of Pathology and Laboratory Medicine, St. Paul's Hospital), William J. Lane (Department of Pathology, Brigham and Women's Hospital, Harvard University), Matthew D. Krasowski (Pathology; University of Iowa), Michael Laposata (Department of Pathology, The University of Texas Medical Branch at Galveston), Brian R. Jackson (University of Utah School of Medicine), and Hardeep Singh (Baylor College of Medicine).

On Friday night, the Awards Banquet will be at the Museum of Flight, the largest independent non-profit air and space museum in the world. The Museum of Flight is a fantastic venue with "fun displays and simulator rides," says Dr. Chandler.

If you find yourself with extra time during your visit, Seattle is an excellent place to explore. Dr. Chandler recommends "Pike Place Market, Seattle Art Museum, waterfront shopping and harbor tours, and ferry rides to explore the nearby islands." Visit Seattle can help you decide which sights to see.

Come join us in Seattle to reconnect with colleagues and meet new ones! Registration is now open. Fees will increase after May 23, 2022. Find the most up-to-date information on registration, the agenda, and more, on the ACLPS website.