Training the Next Medical Laboratory Scientists
August 26, 2021 in Education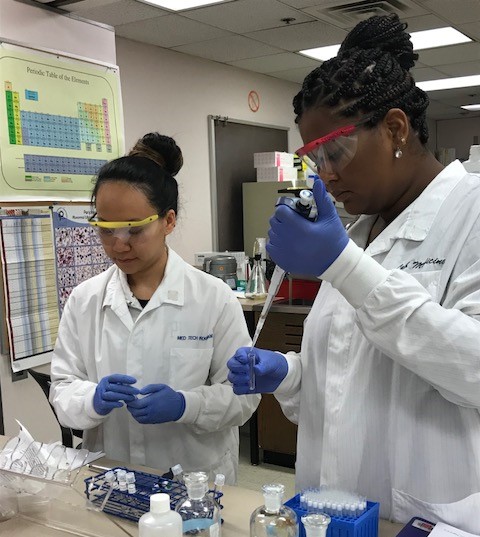 For over 65 years, the Department of Laboratory Medicine and Pathology (formerly the Department of Laboratory Medicine) has sponsored the Medical Laboratory Scientist (MLS) undergraduate program. The MLS Program is a full-time, four-year course of study where students can earn a Bachelor of Science degree in Medical Laboratory Science. The program provides hands-on education with highly trained faculty in clinical settings and leads to an exciting career path!
MLS is a profession of highly knowledgeable and skilled individuals who perform clinical laboratory tests on blood, other body fluids, or tissue samples. Results obtained by these laboratory tests are a vital tool for physicians in their diagnosis, treatment, and prevention of disease. People trained as MLS work in clinical laboratories in large medical centers/hospitals/clinics, conduct research in industrial/public health/medical laboratories, and teach in hospitals/colleges/universities. Approximately 70% of the information that doctors use to diagnose and treat patients comes from diagnostic lab tests/results – the work of medical laboratory scientists.
MLS are highly sought-after professionals because they are a critical part of the healthcare team, and many MLS Program graduates can secure employment before they graduate. Medical Laboratory Scientist is listed in USA Today's 2019 article about college majors with the lowest unemployment, with only 1.74% of students completing this major being unemployed. In 2020, 93% of our graduates were employed as an MLS within six months of graduation.
One major advantage of our MLS program is the opportunity to learn complicated and highly technical laboratory procedures in an internship setting in clinical laboratories. The final year (three quarters) takes place in the clinical laboratories of the University of Washington Medical Center (UWMC) and its affiliates. Students spend the majority of their scheduled time in the core clinical laboratory program in chemistry, hematology, immunohematology, and microbiology.
The rotation year was my favorite because you get to see for yourself what different departments are like, what different hospitals are like, which helps you figure out what kind of jobs you want to apply to when you graduate," says Faith Berry, Class of 2021. "You get to meet a lot of intelligent and experienced MLS and learn from them. I thought it was a very natural bridge between school life and working life." Berry, who works in the UWMC Molecular Microbiology Lab, recommends the major to "anyone who likes biology and detail-oriented work, and who wants to make a difference for patient care.
Jessica Truong, Class of 2021, says she recommends the major to those who are interested in medicine. "This program gave me a deeper understanding and appreciation of the work that goes on in the lab. With the education provided by the MLS program, it gave me a different perspective/knowledge based on lab tests and results compared to other healthcare professionals." Troung, who currently works at Haborview Medical Center's Clinical Chemistry Lab, says her favorite part of the program was the cohort. "Because the program is so small, I was able to build close connections with everyone, which helped foster a positive learning environment. Everyone was willing to help each other out!"
Our annual deadline for the program is February 15. We will be hosting information sessions on October 21, November 18, December 16, and January 20 (all 4pm PT) via Zoom. These online information sessions will be facilitated by members of our admissions team and provides information about what a medical laboratory scientist does, program admissions, didactic coursework, and clinical internship experiences.
Interested in starting your career in medicine? Get more information about our MLS Undergraduate Program.